Articles
Clip and Slide Portfolio List Option
Author: Geoff B.
11/16/2010
We launched a new portfolio list option today - the "clip and slide".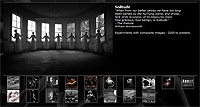 This layout is quite a bit different than the options that we have had in the past, in that it provides a large preview of the default image in the portfolio, and a portfolio description. The portfolio list is presented in thumbnail view at the bottom of the page. When a visitor hovers over a portfolio thumbnail, a preview of the image and description slides into view.
To edit your portfolio list options, log into your account, then visit the "portfolio list layout" link, found under the "design options" heading.
To check out a live preview of this new option, visit the gallery section of my website, here: http://www.gvbfineart.com/portfolios.htm
Comment on this article
Comments:
No comments
Post a comment
Please do not use this form to ask technical support questions. Instead, email help@impactfolios.com
Please log into your ImpactFolios account to post a comment.